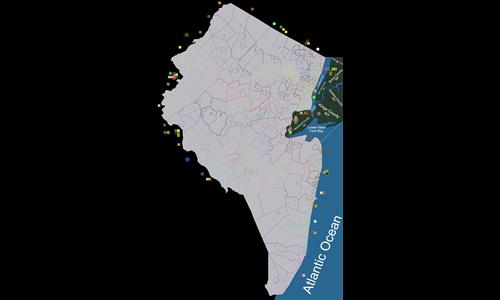 Central - Northern New Jersey
#Real World
Created by
Sir Nick
(
all
)
Went public on 2/3/2012
Number of ratings: 50
Average rating: 3.38 / 5
397 territories, 75 bonuses, 0 distribution modes
Description
A map of the Municipalities in Central NJ (Hunterdon County, Mercer County, Middlesex County, Monmouth County, Somerset County, & Union County) & Northren NJ (Bergen County, Essex County, Hudson County, Morris County, Passaic County, Sussex County, & Warren County) in the USA.
Reviews
Review by
Mark The Destroyer
on 10/19/2014.
I liked the townships. They made for interesting play. However, there were numerous missing links which made it very confusing. Clean up the missing links and the map will be great.
1 out of 1 person found this review helpful.
Review by
Njugu

on 3/18/2015.
This is a really well drawn and presented map. It also plays rather well, (not easy even against the AI). However it is totally spoiled by the number of missing connections,connections that show but don't work (saw 1 of those),and sometimes you can't 'see'another territory even tho' you're sharing a common border with it. Would have given 5 stars but because of the above only 3.
1 out of 1 person found this review helpful.
Review by
otinanaimail
on 3/27/2014.
nice map
0 out of 0 people found this review helpful.