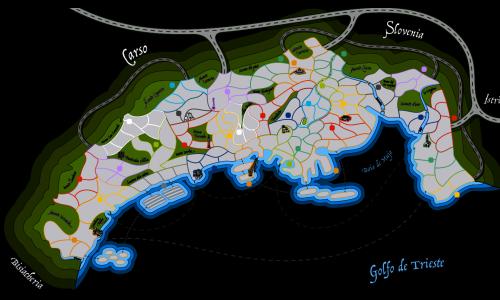 Trieste, Italy
Unlocks at level 5 or with the
Mega Maps Pack
Created by
Piero
(
all
)
Went public on 5/12/2020
Number of ratings: 17
Average rating: 4.058 / 5
150 territories, 33 bonuses, 0 distribution modes
Description
A fanciful view of Trieste, Italy.
Trieste is the capital of Friuli Venezia Giulia, the region in the far north-east of Italy, located on the border with Austria and Slovenia and at the northernmost point of the whole Mediterranean.

Geographic features have been modified or distorted in order to optimize the balance of the game and improve the beauty of the design. Some of the most iconic landmarks in the city have been drawn: you can consider this map as a sightseeing tour!
Connections are extended by sea via some additional routes; by land via Slovenian main roads and highway.

The magnificent font used for geographical references is Trattatello, designed by Mr James Grieshaber.
Feel free to DM me for a copy of the Map SVG!
Reviews
Review by
Biondots1992
on 5/13/2020.
Very nice map. Good connections by sea and by road over the top and top-down. Thanks a lot for the efforts and the creation. My favorite map ever. Thank you
2 out of 2 people found this review helpful.
Review by
Guidonis
on 5/13/2020.
Se sei un vero triestino, devi giocarci ;) bellissima
1 out of 1 person found this review helpful.