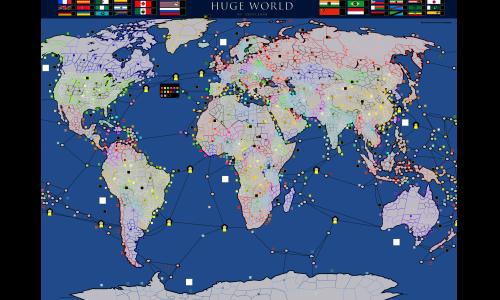 Gentleman's Huge World
Created by

Belgian Gentleman
(
all
)
Went public on 6/25/2020
Number of ratings: 30
Average rating: 4.1666 / 5
2281 territories, 688 bonuses, 0 distribution modes
Description
I had seen that Issander's huge world has taken on a great role in the warzone community. So I worked to create my own version in my own style.
Reviews
Review by
zaphenath
on 7/11/2020.
Outstanding map! Very well done. 5/5

Just a few corrections needed that I noticed.

Missing connections:
Ross Ice Shelf to Rupert Coast
Aldan to Mirny
Liuzhou to Beihei
Michoacan to Mexico City
Cap Haitien to Port-au-Prince

Also the path from Easter Island to Desveturadas Island looks like it should connect to Chile Coast Seazone — needs to go around.

Montero connects to other territories but across a black line.

Great map otherwise -- thanks for making this.
6 out of 6 people found this review helpful.
Review by

Efra☪Yezdana
on 6/26/2020.
There will be a real war in everywhere...!
10 out of 17 people found this review helpful.
Review by
jean5
on 11/1/2020.
Too easy.
Really too easy.
0 out of 1 person found this review helpful.