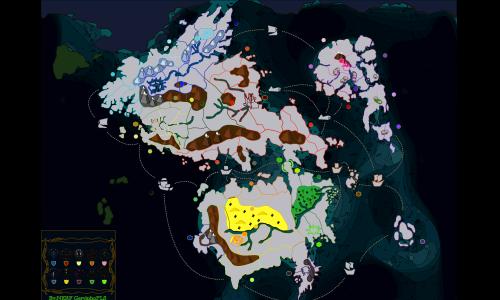 Runeterra
Created by
Leonida
(
all
)
Went public on 5/8/2020
Number of ratings: 13
Average rating: 4.0 / 5
119 territories, 51 bonuses, 6 distribution modes
Description
Hi everyone! This map is Runeterra, the world of League of Legends. I tried my best to represent the world of my favourite game, which i think perfectly fits a Risiko-style game.
Hope you enjoy!

---
Important: This is a fan project and every aspect of this map is IP of Riot Games.
This map was created under Riot Games' "Legal Jibber Jabber" policy using assets owned by Riot Games. Riot Games does not endorse or sponsor this project.
Reviews
Review by
icetwister1999
on 5/14/2020.
What too play.
This maps distribution settings are one of the best. factions mode is very nice for 5 or 6 player FFA, but sucks for teams. 11 player game is nice using Capitals. 2v2 looks like a blast too. If you do teams I would put a starting level cap on it.

Territory placement.
Noxus is just a little bit too big would of nice if some of it was some natural lands, say the Noxus lands on Ionia. Ionia will not give up the 3 Noxus lands on its borders for good reason. The Seas is a waste of time to get, would be nice if their was two parts to them then you might actually get a bonus for them. The map placement on some seas only has two attacks you can do, so I would have starting armies at 5. Map has nice balance of choke points. Most the territories are very well placed making it very fun to play!
1 out of 1 person found this review helpful.
Review by
Hroznatinsky
on 5/15/2020.
Almost perfect! (one inpenetrable border without visible natural obstacles makes me to lower the rating). I love this map.
1 out of 1 person found this review helpful.
Review by
Capobest
on 5/8/2020.
Really genius map
2 out of 4 people found this review helpful.