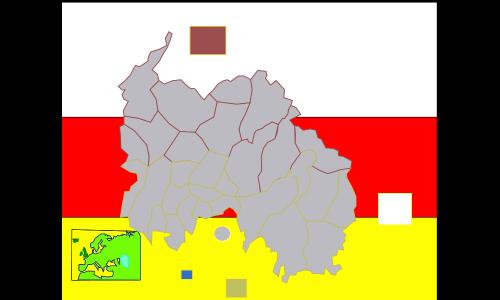 South Ossetia
Unlocks at level 13 or with the
Mega Maps Pack
#Real World
Created by
Weter
(
all
)
Went public on 3/23/2020
Number of ratings: 19
Average rating: 2.6315 / 5
30 territories, 4 bonuses, 0 distribution modes
Description
South Ossetia (officially the Republic of South Ossetia – the State of Alania, or the Tskhinvali Region), is a de facto sovereign state and disputed territory in the South Caucasus, in the northern part of the internationally recognised Georgian territory. It has a population of 53,000 people who live in an area of 3,900 km2, south of the Russian Caucasus, with 30,000 living in Tskhinvali.
Reviews
Review by
Phakh Gokhn

on 4/3/2020.
Only 4 bonuses, 3 of which are too big and another is 1 territory. This makes the map luck based and nearly unplayable in a fair strategic manner. Even if the 1 territory bonus is disabled, the remaining 3 bonuses are too big to be conveniently taken.
1/5
2 out of 2 people found this review helpful.
Review by

cj
on 12/29/2021.
instant loss
0 out of 0 people found this review helpful.