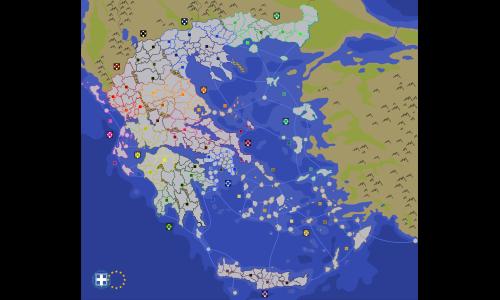 Greece Big
Created by

Seleukos
(
all
)
Went public on 4/10/2020
Number of ratings: 42
Average rating: 4.2142 / 5
283 territories, 73 bonuses, 1 distribution mode
Description
Greece: a country of mountains and valleys, long coastlines and innumerable islands. Such is the geography that gave birth to the oldest urban civilization in Europe, and it is here reproduced in some detail within the country's modern borders.

Superbonuses are designed to normalize the relative income of their constituent territories, so regions with lots of small bonuses won't be at much of a long term disadvantage compared to regions with fewer large bonuses. For example, Attica has 27 territories and their assorted bonuses give the player 15 armies, while Central Greece has 25 territories and their assorted bonuses give 17 armies. By adding 4 to Attica and only 1 to Central Greece, they both end up with a ratio of around 0.7 armies per territory.

v1.1: Split Rhodes and Lesbos into more territories.
Reviews
Review by
Koen27
on 4/10/2020.
Very nice map of Greece. I love the style especially. However one thing confuses me. The territories around Athens are very small and detailed whereas the big island of Rhodos (same for Lesbos) is just 1 single territory while there are also a couple of big cities on it. I'm pretty sure you must have had some reason for that but still it looks very weird.
Overall very nice and good playable map. 5/5 because I love Greece
Response by map creator

Seleukos
on 4/11/2020
Thanks! I did consider breaking up Rhodes, but I mostly kept to the level of municipalities, of which there's an awful lot in Attica (and I had to join many of them together) but only one in Rhodes. I did split Antikythera off from Cythera, because of its size and position, so adding some detail to Rhodes and Lesbos would be in the same spirit. I'll keep it in mind when it's time for an update.
6 out of 7 people found this review helpful.
Review by
Matt Schwartz

on 12/17/2020.
way too easy. Not even fun

0 out of 2 people found this review helpful.