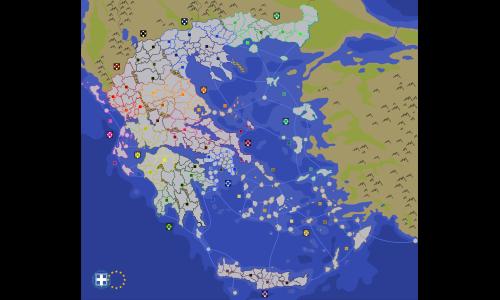 Greece Big
#Real World
Created by

Seleukos
(
all
)
Went public on 4/10/2020
Number of ratings: 132
Average rating: 4.2651 / 5
283 territories, 73 bonuses, 1 distribution mode
Description
Greece: a country of mountains and valleys, long coastlines and innumerable islands. Such is the geography that gave birth to the oldest urban civilization in Europe, and it is here reproduced in some detail within the country's modern borders.

Superbonuses are designed to normalize the relative income of their constituent territories, so regions with lots of small bonuses won't be at much of a long term disadvantage compared to regions with fewer large bonuses. For example, Attica has 27 territories and their assorted bonuses give the player 15 armies, while Central Greece has 25 territories and their assorted bonuses give 17 armies. By adding 4 to Attica and only 1 to Central Greece, they both end up with a ratio of around 0.7 armies per territory.

v1.1: Split Rhodes and Lesbos into more territories.