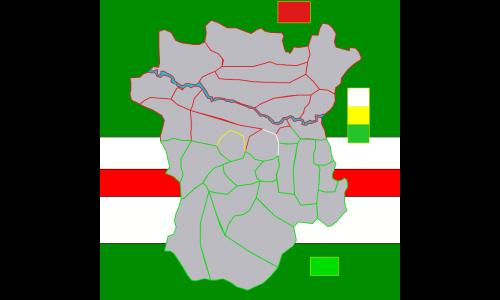 Chechen Republic of Ichkeria
Unlocks at level 11 or with the
Mega Maps Pack
#Real World
Created by
Weter
(
all
)
Went public on 4/1/2020
Number of ratings: 26
Average rating: 2.8846 / 5
31 territories, 5 bonuses, 3 distribution modes
Description
he Chechen Republic of Ichkeria (Chechen: Nóxçiyn Paçẋalq Içkeri,Russian: Чеченская Республика Ичкерия; abbreviated as "ChRI" or "CRI") was an unrecognized separatist government of the Chechen Republic.

The First Chechen War (December 1994 - August 1996) resulted in the victory of the separatist forces. After achieving de facto independence from Russia in 1996, the Chechen government failed to establish order. In 1997 the Chechen Republic adopted sharia and carried out public executions. In November 1997 Chechnya was proclaimed an Islamic republic.

A Second Chechen War began in August 1999 and ended in May 2000, CRI been destroyed, but Chechen rebels continuing attacks as an insurgency.

2.0-Bonuses reworked. Distributions added.
Reviews
Review by
DedMan
on 4/5/2020.
The two guys were running around with zero armies and I killed all of the other territories. But anytime I would fight them or they would fight me I would lose instantly. Even if I beat them 84 to 0
1 out of 1 person found this review helpful.
Review by
Matt Schwartz
on 4/14/2020.
fun
1 out of 1 person found this review helpful.