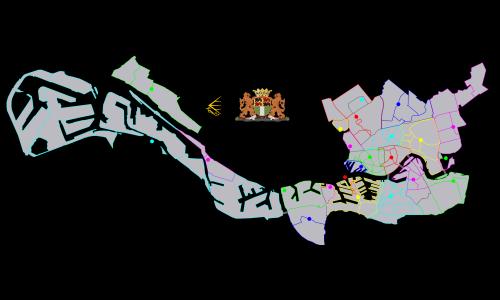 Rotterdam
Unlocks at level 27 or with the
Mega Maps Pack
#Real World
Created by
Koen27
(
all
)
Went public on 2/18/2020
Number of ratings: 18
Average rating: 3.6111 / 5
94 territories, 23 bonuses, 0 distribution modes
Description
Rotterdam by Koen27

(my 7th map)

Rotterdam is the second largest city and municipality in the Netherlands. It is in the province of South Holland, part of the North Sea mouth of the Rhine–Meuse–Scheldt delta, via the "New Meuse" inland shipping channel, dug to connect to the Meuse first, but now to the Rhine instead.
Rotterdam's history goes back to 1270, when a dam was constructed in the Rotte. A major logistic and economic centre, Rotterdam is Europe's largest seaport. In 2020, it had a population of 651,446[10] and is home to over 180 nationalities. Rotterdam is known for its university, riverside setting, lively cultural life, maritime heritage and modern architecture.

This is a tactical map, made for interesting 1v1, FFA or team games. Not really for diplomacy games. But you can try.
Reviews
Review by

Graaf Reinoud I

on 2/7/2022.
It is Okay, sometimes not really clear whcih territory connects to which other and also many not logical in territories which are connected to only 1 other territory.
1 out of 1 person found this review helpful.