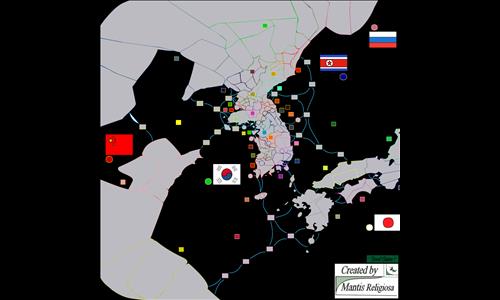 Korean peninsula (and around)
Created by
mantis religiosa
(
all
)
Went public on 2/21/2012
Number of ratings: 127
Average rating: 3.559 / 5
160 territories, 44 bonuses, 3 distribution modes
Description
MANTIS RELIGIOSA

Here it is, the Korean Peninsula and some territories around ! Relationships between the both Koreas has been strained, especially since the previous North Korean leader recently died. Even nowadays, some "accidents" break out in this region.
On top of that, the whole planet has been under threat for 6 years: North Korea finished his nuclear program in 2006 ... And it doesn't refrain from proceeding to nuclear tests.

I didn't just make the Korean map (current borders), because conflicts could spread around.

********* Advice :
- Do not put the Surveillance Card in the game's settings. Or just make sure than the other players will not use it for any "country bonus" !
- Do you want to play a war just between the North Korea and the South Korea ? Look at the Distributions Window.

I worked hard for weeks to creat this map (which is my first one !): I hope you will enjoy it !
(Special thanks to Heldroan, Inferno, Ozymandias and above all zero tso adamikëdana)


Good game !