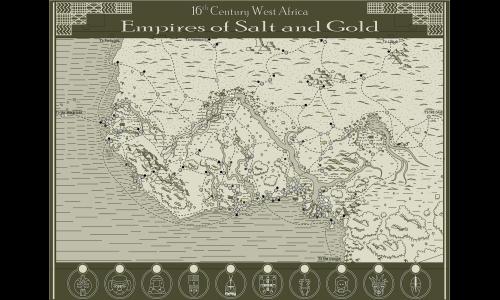 Empires of Salt and Gold
Unlocks at level 5 or with the
Mega Maps Pack
#Real World
Created by

Murk

(
all
)
Went public on 8/25/2020
Number of ratings: 40
Average rating: 4.1 / 5
218 territories, 136 bonuses, 6 distribution modes
Description
West Africa in the 16th century stands on the precipice of change.
For centuries, the great empires of the Sahel have grown wealthy and strong on the Trans-Saharan trade: gold from the South, salt from the North, and the sprawling cities on the Niger right where the two meet.
It is there that the ancient Ghana Empire rose, famous Mali and now Songhai, the largest empire West Africa has ever seen.

The small city kingdoms of the south have never been able to rise to similar greatness - but this is about to change.
On the Atlantic coast the Portuguese have landed, and for the first time the people of the south are no longer dependent on the traders of the Sahel.
Beyond the Sahara, the Sultan of a reunified and modernised Morocco eyes the wealth and knowledge of Timbuktu.

Before the 16th century is over, the great Empires of Salt and Gold will have been conquered and shattered.
A new era, one of guns and slaves, will have started.