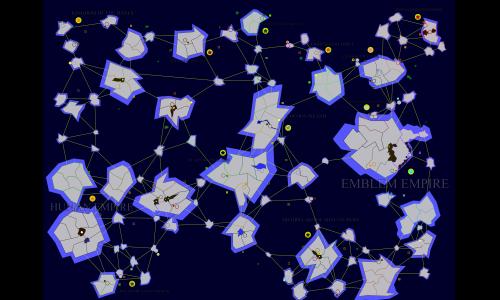 Open Realm
Created by

unicorn7
(
all
)
Went public on 12/30/2019
Number of ratings: 19
Average rating: 3.6315 / 5
217 territories, 99 bonuses, 0 distribution modes
Description
This map was finished through the input of players in the Official 'Create the Map' Game, a multi-day open game taking place soon after this map was published.

In the Official 'Create the Map' Game you are able to name territories, create bonuses, and modify the map. These changes affected future versions of the map.
Reviews
Review by
Viking1007
on 2/24/2020.
Hmmm... Interesting map.
1 out of 1 person found this review helpful.
Review by
Perhaps

on 1/14/2020.
This map has bonuses that are not clearly identified. Yes, with some examination, you can figure it out. But it should be effortless.

The territories that comprise most of the bonuses are not grouped by territories that share an island. This could make for interesting game play, if better colors or something made it clearer as to which territories make up each bonus.

Also, there are entire sections where there is no bonus. If, for example, you happen to start in the south/west section of the map, you might go 10 turns before you are able to reach all of the territories needed for your first bonus. Or to put it another way, if you start there, you might as well surrender.
0 out of 2 people found this review helpful.