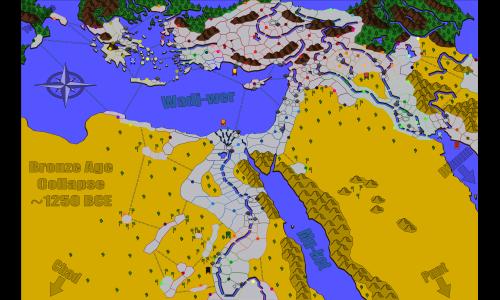 Bronze Age
Unlocks at level 40 or with the
Mega Maps Pack
#Real World
Created by

Colion
(
all
)
Went public on 10/15/2019
Number of ratings: 48
Average rating: 4.2083 / 5
394 territories, 168 bonuses, 5 distribution modes
Description
This map is a recreation of the Late Bronze Age Collapse (~1250 BCE).
The Bronze Age Collapse is a somewhat fabled event in history, because the very concept of written language went almost extinct. There are three main things that contributed to the Bronze Age Collapse:
-Plague
-Soil Degradation
-Attacks by the "Sea People"

Disclaimer: Many locations on the map are called by modern pronunciations of their ancient names, are the names of archaeological sites, or might simply have never existed (sources of Canaan are especially suspicious). This is not an accurate historical source.