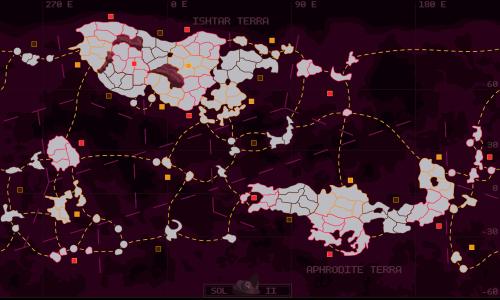 Venus
Created by

Seleukos
(
all
)
Went public on 9/19/2019
Number of ratings: 37
Average rating: 3.9729 / 5
147 territories, 30 bonuses, 1 distribution mode
Description
Similar to my previous 'Small Venus' map, but bigger!

Many thanks go out to NASA's Pioneer Venus Orbiter and Magellan missions, as well as Ralph Aeschliman for his outstanding Venusion cartography.

v1.1: Fixed some of the graphics for Flash.
v1.2: Changed the bonus colours to make them more distinct.
Reviews
Review by
Mashadevas
on 3/30/2020.
great venus map! not too many territories which make it a fast game full of fun
Response by map creator

Seleukos
on 4/3/2020
Glad you liked it!
2 out of 2 people found this review helpful.
Review by
Oilers
on 10/15/2021.
alright
0 out of 0 people found this review helpful.