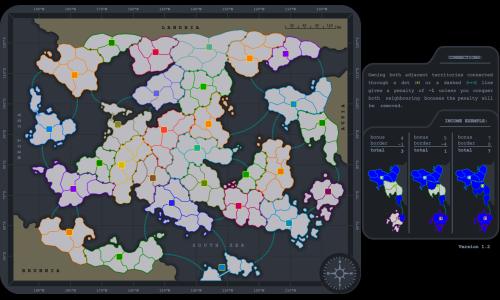 Landria
Unlocks at level 20 or with the
Mega Maps Pack
Created by
Lionheart
(
all
)
Went public on 9/19/2019
Number of ratings: 25
Average rating: 4.2 / 5
134 territories, 197 bonuses, 0 distribution modes
Description
Connection Rules:
---------------------
Owning both adjacent territories connected through a border with a dot or a dashed line gives a penalty of -1 unless you conquer both neighbouring bonuses the penalty will be removed.

Bonuses Managing:
-----------------------
Different from the other maps with INSS bonus system, here you can manage the income of the visible bonuses to increase or decrease their income, but is recomended to not manage the income from the hidden bonuses.

Template Suggestion:
-------------------------
(by Master of Desaster and Rufus)

Landria 1v1 - block and gift:
https://www.warzone.com/MultiPlayer?TemplateID=1255752

Landria 1v1 - block and gift - no split:
https://www.warzone.com/MultiPlayer?TemplateID=1255750
Reviews
Review by
krinid
on 10/13/2019.
Either an amazing masterpiece or a horrendous disaster - kind of divided right now, but leaning towards masterpiece. Actually took about half a play through to really understand the game play.

I wouldn't want to play this every game, but it's a unique approach on the bonuses that really shakes up the strategy and makes you think. Where you might normally just expand to cap the next bonus, you'll be left calculating if taking a new territories will actually hurt your income, and finding a different attack vector to achieve your goal.
4 out of 4 people found this review helpful.