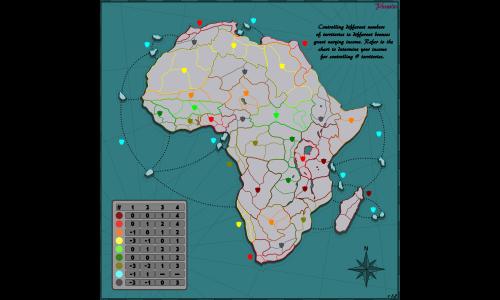 Elitist Africa 3.0
Unlocks at level 10 or with the
Mega Maps Pack
Created by
Phoenix
(
all
)
Went public on 8/20/2019
Number of ratings: 41
Average rating: 3.8292 / 5
138 territories, 431 bonuses, 0 distribution modes
Description
Current version: v 1.2 (if the number at the bottom right of the map doesn't match this number, you are probably using an outdated version of the map)

Behold, Elitist Africa 3.0, in all its glorious 400+ bonuses...

A remake of the old and gold Issander's strategic Africa, that (hopefully) doesn't look like it was drawn using crayons... As Xenophon so bluntly pointed out in Sloppy's remake...

The same principle as the MME Board Map: Make an old map more beautiful while retaining all old elements of gameplay.

IMPORTANT! Please notify me of any bonus errors or missing connections ASAP so that I can fix them. Thanks!

Enjoy the revamped Strategic Africa~

------------------------

v 1.1 - Fixed error in bonus Mascarenes. Also added version number text in bottom right.

v 1.2 - Added super bonuses similar to the ones in biomes and gotham. They are default 0 to remain exact to the old Issander map but they can be customized to be like the other maps with similar bonus system.