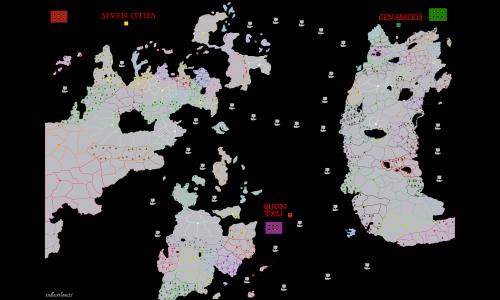 World of Malazan
Unlocks at level 32 or with the
Mega Maps Pack
Created by
EndlessFlame27
(
all
)
Went public on 8/14/2019
Number of ratings: 23
Average rating: 4.0434 / 5
642 territories, 110 bonuses, 0 distribution modes
Description
The world of the Malazan book series. Includes the continents of Genabackis, Seven Cities, and Quon Tali.
Reviews
Review by

Cthulhu
on 11/6/2019.
World of Malazan is extremely addictive. This map revives all adventures one had while reading this wonderful series.
5 out of 5 people found this review helpful.
Review by
warhawk
on 11/20/2019.
Played this in a "Map of the week". It played well. I did run into a connection problem ,I was unable to attack Shand Field from The Two Rivers.
0 out of 0 people found this review helpful.