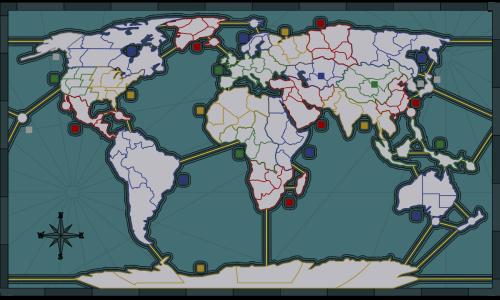 Modified Medium Earth Board Map
#Real World
#Strategic
#World
Created by
Phoenix
(
all
)
Went public on 7/9/2019
Number of ratings: 105
Average rating: 4.0952 / 5
129 territories, 27 bonuses, 2 distribution modes
Description
!!IMPORTANT!! If you find any missing connections or errors PLEASE notify me ASAP! This map needs to have IDENTICAL gameplay as the Modified Medium Earth. Any deviations need to be fixed IMMEDIATELY!

----------------------------------------------------

This map is an homage to the original Modified Medium Earth by Fizzer as well as the Small Earth Board Map by Lionheart.

This map gives the old MME map a face lift, touching up rough edges as well as adding more aesthetic elements while at the same time retaining all the traditional gameplay and "strategicness" of the old map. This map was intentionally made to be identical to the old map in terms of territories, bonuses, and connections in order to preserve the "new map, same gameplay" feeling.