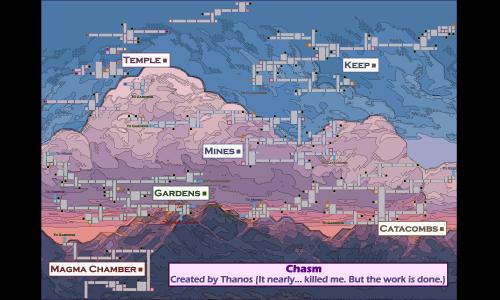 Chasm
Created by
Thanos

(
all
)
Went public on 8/7/2019
Number of ratings: 26
Average rating: 3.8846 / 5
432 territories, 110 bonuses, 1 distribution mode
Description
Based off the 2018 PlayStation 4, PlayStation Vita, and Nintendo Switch game. Each area contains multiple exits and teleports. For optimal fun, use the default distribution mode 'Save Rooms' as well as No-Split mode.

Chasm uses a small amount of procedural generation to define small details in the map while keeping the general layout the same. Because of this, the map used here charted live at twitch.tv/absolutelyethan and the Seed generated by the game was 2E5C71A

Your maps are not safe.