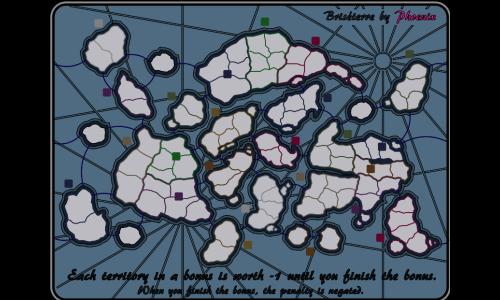 Briséterre
Unlocks at level 25 or with the
Mega Maps Pack
#Fictional
#Strategic
#INSS
Created by
Phoenix
(
all
)
Went public on 7/2/2019
Number of ratings: 22
Average rating: 3.5 / 5
84 territories, 129 bonuses, 0 distribution modes
Description
Suggested template: https://www.warzone.com/MultiPlayer?TemplateID=1243866

This map contains a different type of bonus system. For every territory inside a bonus (not one of the four islands with black border) you possess, your income is decreased by 1. However, when you complete the bonus your income increases by the bonus amount and all territories within the completed bonus are no longer worth -1 on your income.

I hope this is an interesting new concept and hopefully you enjoy playing on this map!

If you have any suggestions of notice any errors, bugs, or something off don't hesitate to let me know!

:D
Reviews
Review by

MaikMcJuggle

on 7/11/2019.
Very nice map. I don't know if the distribution system is new, but I encountered it first on this map. Indeed interesting gameplay!

The map is visually appealing. If you ask me, I would decrease the width of your graphical elements a bit. The borders appear a bit too bold in my opinion. I would also like to see brighter colors (at least a bit). The color composition of your new maps feel a bit like foggy raining days.
These two aspects are slightly better realized in Lionhart's masterpieces.

But that's really just a minor cosmetical and maybe subjective complaint.

Fantastic work anyway, keep up the good work!
5 Stars

Apprentice for President.
Response by map creator
Phoenix
on 7/11/2019
Thanks for the review! Indeed I am always seeking ways to improve not only the mechanics of the map but also very much the aesthetic elements that go along with it.

With regards to the borders -- Several people have told me that they believe the border may be a bit too intense and contrasting with the rest of the map, and I'll make sure to keep that in mind when I make maps in the future. Thanks for the tip!

As for the color scheme, I feel like what you mentioned about how the map looks like a foggy raining day is exactly how I wanted the map to come out, I didn't want too many bright colors to be painful to the eyes so I chose rather to go with a softer palette. However I do believe some maps should indeed have a wider range of colors to make things more cheerful!

Again, thanks for the review and I hope to display the same level of expertise as Lionheart one day! :D
3 out of 3 people found this review helpful.
Review by

Lionheart

on 7/3/2019.
Well made map!
Response by map creator
Phoenix
on 7/3/2019
Thanks! I hope to create maps as well as you do someday :D
2 out of 2 people found this review helpful.
Review by
Bob
on 10/1/2022.
nice.
0 out of 0 people found this review helpful.