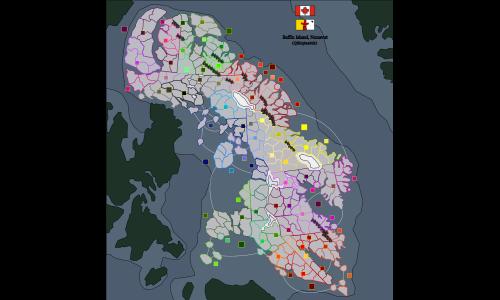 Baffin
Unlocks at level 29 or with the
Mega Maps Pack
#Real World
Created by
RainB00ts
(
all
)
Went public on 6/10/2019
Number of ratings: 27
Average rating: 4.0 / 5
283 territories, 78 bonuses, 1 distribution mode
Description
Baffin Island is an island in the Canadian Territory of Nunavut. The rugged and unforgiving terrain will prove a great challenge to conquest. On the East side there are frozen mountains and ice caps; on the West side, frozen lakes.

MOTW Week 235 Winner
Reviews
Review by
Nathan

on 3/30/2020.
Great map - I had no idea there were that many places on Baffin Island!

This map flows well. The sea connections are a big help. Lots of fun to play on!
Response by map creator
RainB00ts
on 3/31/2020
There aren't really that many places, lol. Actually I ran out of names to call these "places" and I had to resort to pulling place names out of the Inuktun dictionary, and some random words here and there. I think "To Kill a Polar Bear" is a direct translation of one oft the territories.
2 out of 2 people found this review helpful.