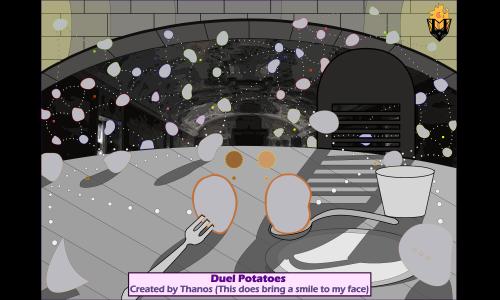 Duel Potatoes
#Novelty
#Strategic
Created by

AbsolutelyEthan

(
all
)
Went public on 5/28/2019
Number of ratings: 26
Average rating: 3.4615 / 5
53 territories, 21 bonuses, 1 distribution mode
Description
Based off the rejected map by Bananashake. Duel Potatoes depicts the never ending struggle between the Fork Potato Method(TM) and the Spoon Potato Method.(TM) Many lives were lost, and the result was devastation for Bananashake. Never has he made a map again.

Your maps are not safe.
Reviews
Review by
The General
on 6/2/2019.
This map made me Cumpster
2 out of 3 people found this review helpful.
Review by

Belgian Gentleman
on 5/30/2019.
The names of these territories are random at best. You can divide the fork potato and spoon potato into two camps: the commoners who had a lot of activity on the OT-forum and are very social; and the elitists who have had a high position on the leader and a huge ego.
Response by map creator

AbsolutelyEthan

on 5/30/2019
Speaking of ego.
1 out of 3 people found this review helpful.