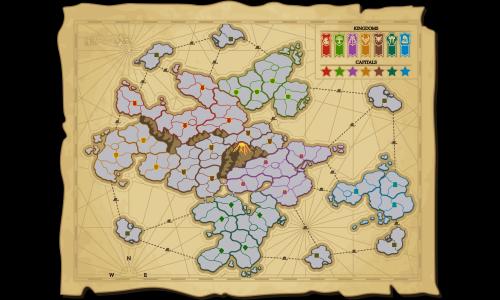 Kenorland
Unlocks at level 10 or with the
Mega Maps Pack
Created by
Lionheart
(
all
)
Went public on 6/25/2019
Number of ratings: 29
Average rating: 4.2413 / 5
142 territories, 48 bonuses, 2 distribution modes
Description
Template suggestions:

A - Kenorland 1v1 (grey map theme):

https://www.warzone.com/MultiPlayer?TemplateID=1241788

B - Kenorland 1v1 (antique map theme)

https://www.warzone.com/MultiPlayer?TemplateID=1242521

Videos:

WGL#167 (streamed by ps)

https://www.youtube.com/watch?v=jhD2x9SVzbU
Reviews
Review by
Svitz

on 7/7/2019.
Fantastic sequel to Regio Coquus. The more circular shape with the same general idea lends itself to very dynamic play no matter what number of opponents, and the capitals make choice-anxiety a thing of the past (not to mention the weird world wrp being removed). Multiplayer games from 1v1 to 7 person ffa are fair and fun. The scaling of bonuses to be 2 less than the tile count balances the usual benefit of going for smaller bonuses at game start, and the islands at the corners add an interesting element. The fact that these outer-lying 1 bonuses are also hard chokepoints also centers the gameplay more towards the center volcano, adding to the feel of the game. The intensity and central nature of the combat that this map incentivizes is entertaining each time I play it.
5 out of 5 stars; I would give more if I could. Keep it up!

PS: The visual style is BEAUTIFUL and really captivates me as a player. It's absolutely the direction many warlight map makers should be heading as the scene advances. Thank you.
4 out of 4 people found this review helpful.
Review by
xXAutomaticRifleXx
on 7/5/2019.
Fun and gives lots of options
1 out of 1 person found this review helpful.
Review by
vicnus

on 7/8/2019.
Plays really well - great balance of city bonuses, minor bonuses
1 out of 1 person found this review helpful.