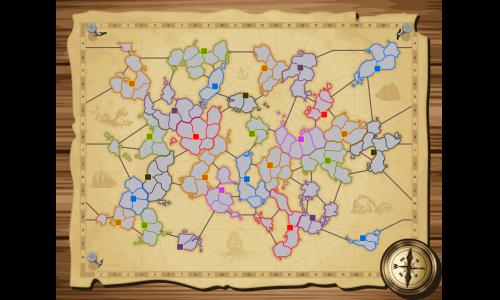 Regio Coquus
Unlocks at level 10 or with the
Mega Maps Pack
Created by

Lionheart

(
all
)
Went public on 5/2/2019
Number of ratings: 46
Average rating: 4.0652 / 5
120 territories, 28 bonuses, 0 distribution modes
Description
Special thanks to sloppy and Min from Apprentice Clan
Reviews
Review by

MaikMcJuggle

on 5/5/2019.
A visually appealing artwork providing a warm background that makes you feel so comfortable whilest thinking on how to destroy the enemy on the battlefield.

Excellent job Lionheart!

The map appears balanced and is a nice choice not only for strategic 1v1's but also small FFA's.

Unfortunately it laggs a bit when playing the map in the browser (probably due to the many details in the vector file) so you might prefer the standalone client or app.

5 Stars!
5 out of 5 people found this review helpful.
Review by
Colion
on 6/8/2019.
It's so pretty! How does he do it?
1 out of 2 people found this review helpful.