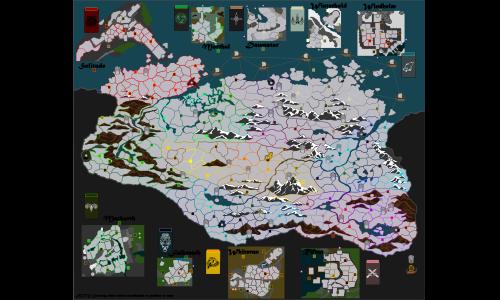 The Elder Scrolls V: Skyrim
Unlocks at level 40 or with the
Mega Maps Pack
Created by
Mudderducker

(
all
)
Went public on 8/12/2019
Number of ratings: 7
Average rating: TBD (needs 10 ratings)
683 territories, 193 bonuses, 3 distribution modes
Description
Based on The Elder Scrolls V: Skyrim

Thanks to tester: Thanos, Lionheart, Koen27, King C, goodgame, Kretoma, Vernal Vinaigrette, NinjaNic, Colion
Reviews
Review by
Lionheart
on 8/13/2019.
The look is stunning!
I loved the big bonuses with their own cities.
The chokepoints between the montains and the ship connections gives a very interesting gameplay!

well made map!
Response by map creator
Mudderducker

on 8/20/2019
Thanks and thanks for the 3D towers!
4 out of 4 people found this review helpful.