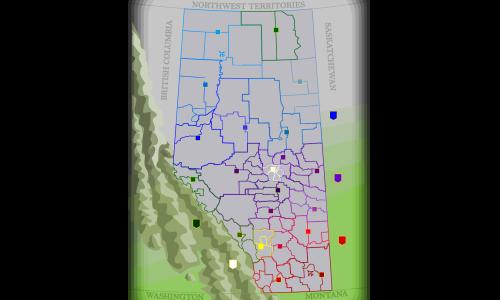 Alberta
Created by

Seleukos
(
all
)
Went public on 2/5/2019
Number of ratings: 40
Average rating: 3.8 / 5
92 territories, 26 bonuses, 1 distribution mode
Description
Canada's fourth most populous province, divided into municipalities. The three northernmost ones are subdivided for aesthetic and gameplay reasons.

v1.1: Two airports (High Level Airport and Foremost Airport) provide instant connection between the north and south of the province.
Reviews
Review by
SkipReadText
on 10/24/2021.
This map is what we were looking for playing in Alberta: however it suffers from a lack of wraparound. Though I did like Lac la Bivhe. Nice to look at but a poor map.
Response by map creator

Seleukos
on 12/4/2021
Thanks for the review! I'm kicking myself for the Lac La Bivhe typo. Edit: I've published a new version, which includes a couple of airports, for wraparound connectivity.
1 out of 1 person found this review helpful.
Review by

AbsolutelyEthan

on 2/6/2022.
Masterpiece
1 out of 1 person found this review helpful.
Review by
Keith
on 9/26/2021.
81 Total Armies; so expect smaller, low number battles.
Straight forward map that plays pretty well.
I [played with 6 players and there were no issues.
A good, solid map, but nothing spectacular.
1 out of 2 people found this review helpful.