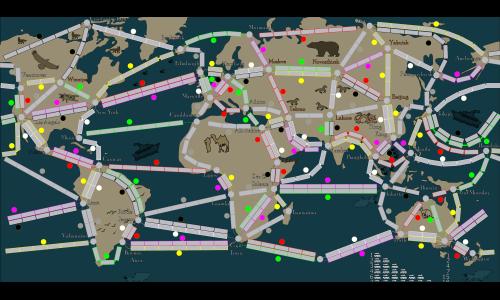 Ticket to Ride The World
Unlocks at level 15 or with the
Mega Maps Pack
#Real World
Created by

[NL] Goldtank

(
all
)
Went public on 4/8/2020
Number of ratings: 24
Average rating: 3.5833 / 5
459 territories, 130 bonuses, 2 distribution modes
Description
Ticket to Right The World is a train board game developed by Days of Wonder
Reviews
Review by

snife

on 4/27/2020.
Interesting map.
This map playes very different from many others. (Very linear and many chokepoints)
This can be good or bad. Since I do like diversity of games and possibilities I think this map is a nice addition to the map pool.
Just 4 instead of 5 stars for now, because I think that it is hard to get balanced starting positions.
But maybe I change that to 5 stars once I played more games on that map.
9 out of 9 people found this review helpful.
Review by
purple the elder
on 5/10/2020.
Really fun and a new way of playing.
0 out of 1 person found this review helpful.