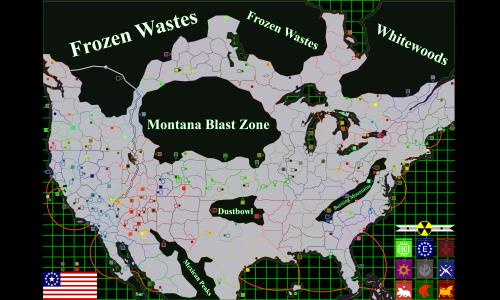 Fallout
Unlocks at level 25 or with the
Mega Maps Pack
Created by
Colion
(
all
)
Went public on 11/20/2018
Number of ratings: 22
Average rating: 4.1363 / 5
376 territories, 218 bonuses, 9 distribution modes
Description
A collective map of the United States a few hundred years after the great war. Had to take a few liberties with place names and borders for balancing. Good for Diplos.

1.1- Adjusted a few bonuses, corrected names,
fixed one broken connection, fixed one missplaced center point.
Reviews
Review by
Den-Sel
on 11/22/2018.
Great map and original concept. Bonuses take some getting used to, and some of the scattered ones are practically impossible to get (so they might as well not be there). But all in all, very enjoyable play.

Need correction:
There are 2 "Downed Airship" territories (a city and an adjacent territory) and the "Dump" does not show the number of armies on it.
Response by map creator
Colion
on 11/22/2018
Thanks for the review! Most of the really scattered bonuses are for emersion or to help with custom scenarios. I will fix the Downed airship and Dump problems. Thanks for pointing them out.
7 out of 7 people found this review helpful.
Review by
Sergei K
on 3/13/2019.
Fantastic map and very challenging! All those little squares of property within the bigger properties makes this map very dynamic and fun.
0 out of 0 people found this review helpful.