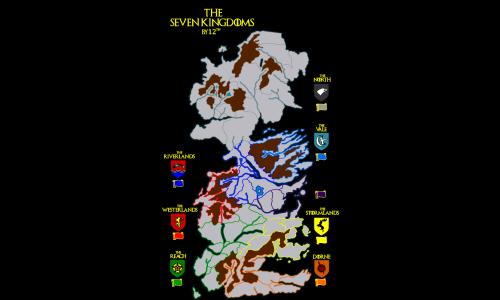 The Seven Kingdoms
Created by
12th
(
all
)
Went public on 11/14/2018
Number of ratings: 8
Average rating: TBD (needs 10 ratings)
55 territories, 8 bonuses, 1 distribution mode
Description
A small map of Westros with bonuses for each kingdom, perfect for a quick and close quarters game of thrones. Based on George RR Martin's a Song of Ice and Fire
Reviews
Review by
Den-Sel
on 11/22/2018.
Good effort but not quite there.
Not very realistic is it? Twins connect to Vale?! Iron Islands missing. The North almost as strong as the Reach and stronger than the West and the Riverlands and the Vale?!
Oh, and Last Hearth territory is not named.
More to the point, the map is quite unbalanced. The North has 7 bonus for 12 territories, but the Reach has 8 bonus for 9 territories. The Westerlands have 5 bonus for 6 territories, but Dorne has 4 bonus for 7 territories. Not reasonable distribution.
1 out of 1 person found this review helpful.
Review by
crom
on 12/8/2018.
What happened with the Iron Isles?
0 out of 0 people found this review helpful.