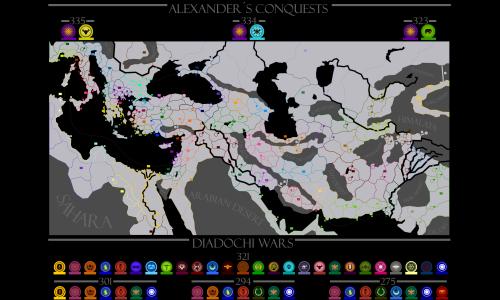 Alexander's World
Unlocks at level 3 or with the
Mega Maps Pack
Created by
Murk

(
all
)
Went public on 12/18/2018
Number of ratings: 93
Average rating: 4.1397 / 5
470 territories, 282 bonuses, 9 distribution modes
Description
Philip II, king of Macedon, had great plans. He had united most of Greece under the League of Corinth and had his modernised army ready to invade Persia.
Then he died.

His son Alexander, only 20 years old, had to consolidate his rule against a coalition of Illyrians, Thracians and rebellious Greeks.
Afterwards, he crossed into Asia and conquered the vast Achaemenid Empire, all the way from Egypt to the Indus and the Scythian steppes.
Resistance in India made him turn back to secure his conquests, but Alexander had great plans yet: revenge against Carthage, exploration of Arabia, invasions of India.
Then he died.

It didn't take his generals long to carve up his empire into fragile, volatile states. All of them tried to conquer the others to be the true heir to Alexander.
In the end, they all died.



This time it is up to you. Can you succeed where Alexander failed: to conquer the world until there is nothing left to conquer, and to build a lasting state?