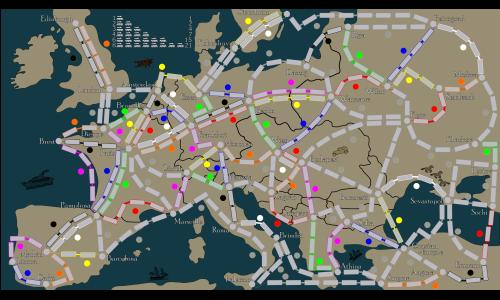 Ticket to Ride Europe
Unlocks at level 30 or with the
Mega Maps Pack
Created by

[NL] Goldtank

(
all
)
Went public on 1/2/2019
Number of ratings: 28
Average rating: 3.8571 / 5
347 territories, 101 bonuses, 2 distribution modes
Description
Ticket to Right Europe is a train board game developed by Days of Wonder
Won, Map of the Week 216
Reviews
Review by
Master of the Seas
on 1/27/2019.
A fun map, reasonably well balanced. I found it easier starting in the East, but that might be luck rather than unbalanced.

Corrections to be made:
- Pescara and Terni connect when they shouldn't
- Pescara and Roma don't connect when they should
- There's an unnamed line NE of Zurich station.

Overall, I enjoyed it. I particularly liked that some stations had two lines so you could try to sneak round rather than throwing armies head-on.
Response by map creator

[NL] Goldtank

on 2/24/2019
These have now been fixed.
Thank you for the report
13 out of 13 people found this review helpful.
Review by
warhawk
on 2/1/2020.
4 player ffa 2/1/20 local deploy, Winner gets carpal tunnel syndrome. 4 star map
1 out of 2 people found this review helpful.
Review by
Erzherzog

on 5/30/2020.
only cities and roads are relevant here.
looks and feels a bit like playing a board game.
good idea and fun to play.
0 out of 0 people found this review helpful.