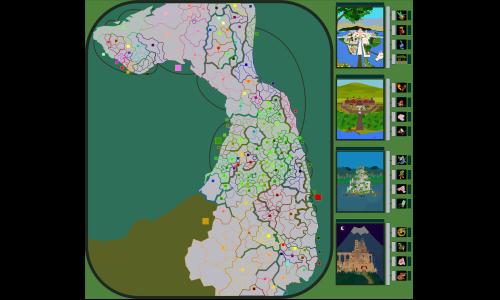 Flower Wars
#Real World
Created by

Murk

(
all
)
Went public on 9/20/2018
Number of ratings: 62
Average rating: 3.9516 / 5
530 territories, 151 bonuses, 6 distribution modes
Description
At the turn of the sixteenth century, the Aztec Empire had conquered all it could conquer.
Those states that remained - the scrambled states of Tlaxcala, mountainous Teotitlan, Yopitzinco of the Tlapanecs, the Mixtec state of Tututepec, Metztitlan, the Zapotec kingdom of Tehuantepec, and others - managed to weather the Aztec onslaught.
Failing direct conquest, the Aztecs surrounded their remaining enemies, besieging them nation-wide. They harried these survivors with ritualistic mock battles - not to defeat, but to harvest captives for sacrifice and prestige.
Much more bloody than their name suggests, these were the Flower Wars.


For other areas of Mesoamerica these were also exciting times. In the West, the Purépecha were busy building the first true nation state of the region in Tzintzuntzan. In the East, the Itza were building a trade empire on the burned remains of the League of Mayapan. And far beyond the ocean, the Spanish threat was growing rapidly.
Whatever happens next is up to you.