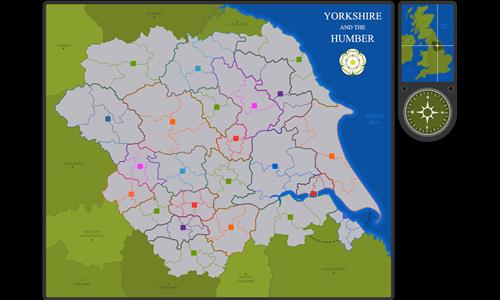 Yorkshire and the Humber
Unlocks at level 12 or with the
Mega Maps Pack
Created by
Lionheart
(
all
)
Went public on 5/9/2018
Number of ratings: 24
Average rating: 3.9583 / 5
98 territories, 23 bonuses, 0 distribution modes
Description
This is a map of Yorkshire. It is so named as it is the shire (county) of the city of York, or York's Shire.

 The countryside of Yorkshire is famed for it's beauty, acquiring the nickname of "God's Own County", and Yorkshire has many castles throughout the county. 
The culture of Yorkshire has been influenced by its history, including the Celts, Romans, Angles, Norse Vikings, and the Normans. The people of Yorkshire are known for being gritty, but fundamentally good people.

Special thanks to:
Quicksilver (map idea)
AWESOMEGUY, ZeroBlindDragon, kicorse (map testers)
Reviews
Review by
DanWL

on 7/18/2018.
Nice artwork. Well balanced. Ideal for quick 1v1 or 2v2 games. No missing territory suggestions. You should start a series of England/UK maps to occupancy this :)
1 out of 1 person found this review helpful.
Review by
warhawk
on 11/3/2018.
All connections seem good. Played as a game of the week, it was like a knife fight in a telephone booth with 4 players.
0 out of 0 people found this review helpful.