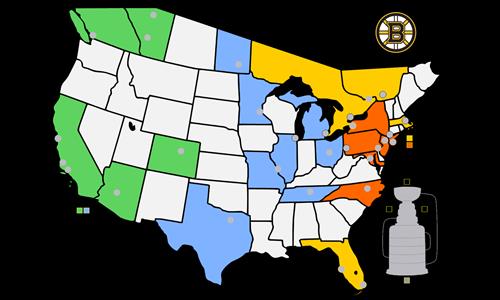 NHL
#Real World
#Novelty
Created by
Richard Sharpe

(
all
)
Went public on 12/8/2011
Number of ratings: 60
Average rating: 2.2833 / 5
37 territories, 8 bonuses, 3 distribution modes
Description
Divisions paired into two conferences; blue-green in one, yellow-orange in the other.

Movement between division goes through division champs (Vancouver to Detroit; Boston to Washington - see bonus).

Movement between conferences goes through conference champs (Boston and Vancouver) via the Stanley Cup.

Original 6 teams and the past four champions are given their own bonuses.