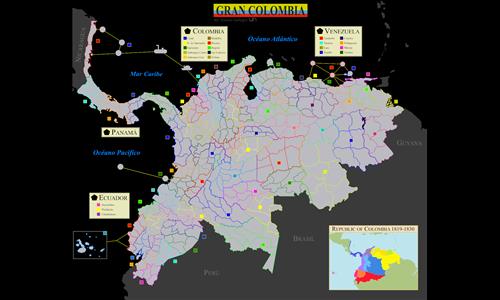 Great Colombia
Unlocks at level 2 or with the
Mega Maps Pack
Created by
Andrés Gallegos
(
all
)
Went public on 1/17/2018
Number of ratings: 29
Average rating: 3.931 / 5
352 territories, 82 bonuses, 1 distribution mode
Description
This map contains the current territories of Colombia, Venezuela, Ecuador, Panama, Costa RIca and a part of Nicaragua. These regions formed the Republic of Colombia (also known as Great Colombia) 200 years ago.
Reviews
Review by
Nathan

on 1/17/2018.
I enjoyed playing on this map a great deal. Unfortunately, there is significant imbalance in the value of some bonuses. Keeping a steady bonus-armies-to-territories ratio is vital in creating balanced gameplay, particularly when distribution options are limited.
3 out of 3 people found this review helpful.
Review by
olo72
on 1/21/2018.
Buen mapa y original idea 4/5
1 out of 1 person found this review helpful.