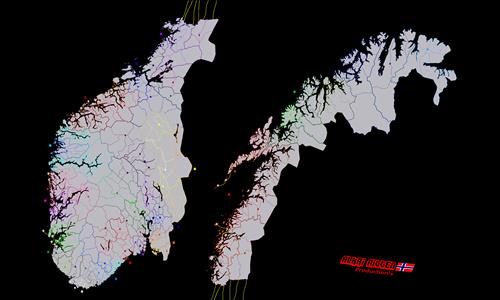 Norway Detailed
Unlocks at level 44 or with the
Mega Maps Pack
#Real World
Created by

Alkri Nitten
(
all
)
Went public on 1/3/2018
Number of ratings: 29
Average rating: 4.0 / 5
434 territories, 104 bonuses, 0 distribution modes
Description
This is a Detailed map consisting of all the 428 municipalities(as of 2013) of The Beautiful country of Norway.


This map is the first map ever i have created. I have spent a lot of time working on this. Most of the time was spent on failing, and learning how to use Incscape. I have plans on making a new map.

There are a few flaws on the map, so i had to improvise on some territories and bonuses, since i didn't want to start all over.

I hope you will enjoy it!
Reviews
Review by
Nathan

on 1/3/2018.
Great map! I really enjoyed playing on it.

It has two flaws, neither of which is the maker's fault. First, Norway's coastline is insane. It's incredibly difficult to follow, but the maker does a fine job making the connections intuitive (or as intuitive as they can be, anyway).

Second, this map gets very linear in the north. Again, so does Norway. I might suggest using a few coastal territories as ports that connect up and down the coast. For example Halden > Larvik > Farsund > Stavanger > Bergen > Solund > Selje > Smola > Fosnes > Traena > Rost > Lenvik > Hammerfest > Vardo.

Suldal should connect to Vinje.
Namsskogan should not connect to Bindal.
2 out of 2 people found this review helpful.
Review by
A_B3
on 1/7/2018.
Difficult to win against the AI. A good play.
1 out of 2 people found this review helpful.