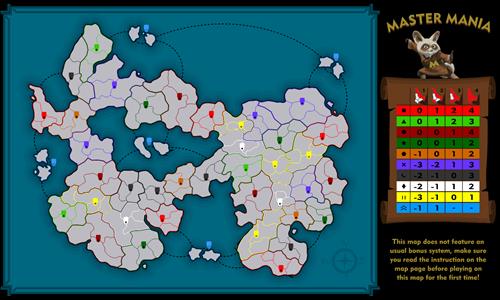 Master Mania
Unlocks at level 54 or with the
Mega Maps Pack
#Fictional
#INSS
Created by

Lionheart

(
all
)
Went public on 10/25/2017
Number of ratings: 159
Average rating: 3.8867 / 5
162 territories, 569 bonuses, 0 distribution modes
Description
Special thanks to MASTER clan

This map was made in honour of the 5 warriors who were destined to protect the Kung Fu Panda Kingdom and Jade Palace. Have your pick of Po, Tigress, Mantis, Monkey, Crane, and battle it out with Tailung!

Instructions:
The bonuses on this map are crafted in a way that controlling 1, 2, 3 or 4 territories in a bonus will grant different income. You can use the bonus table on the map to tell how much income you will gain or lose for controlling a certain amount of territories in a bonus. Be aware that there are a total of 10 biomes, each with its individual color and income distribution.