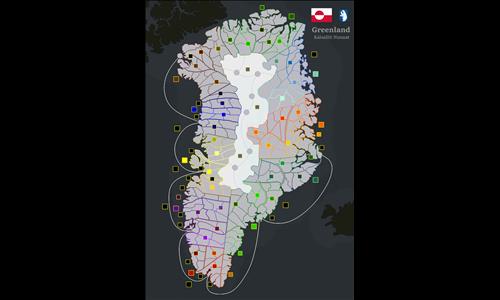 Greenland (Big)
Unlocks at level 13 or with the
Mega Maps Pack
#Real World
Created by
Toluene
(
all
)
Went public on 7/9/2018
Number of ratings: 39
Average rating: 3.8461 / 5
241 territories, 79 bonuses, 6 distribution modes
Description
A detailed map of Greenland (a country within the Kingdom of Denmark) with special features. A rather big map for the world's biggest island.

Features:

The center of the ice sheet (scaled down for the map) and Greenlands mountain ranges are barriers. Stations allow crossing the ice. Towns with airports connect, allowing quick operations across municipalities - air transport is important in Greenland since there are no roads connecting towns.

Small bonuses are old municipalities and geographic regions, superbonuses are groups of municipalities. Territories are based on geography: basins and topography. Major towns and present-day municipalities have bonuses set to zero. With these you can create unorthodox games. (If you're looking for accurate 2018 subdivisions look for the zero bonuses).
-
Most names are real places retrieved from Mapcarta.com. Some names are fabricated from the Greenlandic Inuit language.