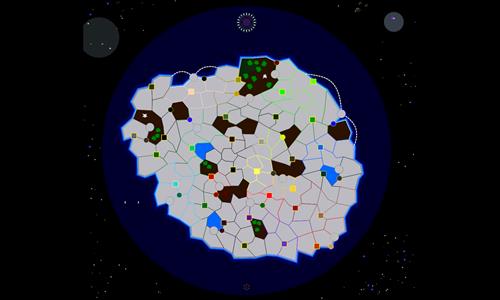 Future Realm
Unlocks at level 11 or with the
Mega Maps Pack
Created by

unicorn7
(
all
)
Went public on 9/21/2017
Number of ratings: 53
Average rating: 3.4528 / 5
132 territories, 46 bonuses, 0 distribution modes
Description
A collectively named map using the system described in the Other Realm map description.
Reviews
Review by
captainlove
on 7/12/2020.
Fun map to play. I gave it 3 stars, might have given it 4 if not for those stupid little circle territories that look like the icons to tell you how many bonus a territory is worth. I can't stand those territories because I always overlook them--if an opponent has the circle territory they always catch me by surprise and if I have them I end up leaving armies behind because I forget about them. It would also make the game a little harder to beat if you had backdoors from the bottom of the map along with the ones at the top. Anyone wanting to make this map a little harder the way it is, start from the middle and try to win that way-- it's a little easy to beat starting from the edges.
0 out of 0 people found this review helpful.
Review by
yinchiao

on 6/27/2021.
pretty straightforward
0 out of 0 people found this review helpful.