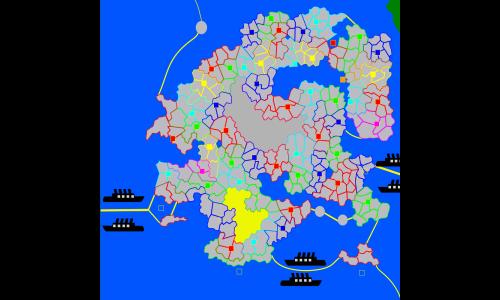 Helinde
Created by

[NL] Goldtank

(
all
)
Number of ratings: 0
Average rating: TBD (needs 10 ratings)
272 territories, 55 bonuses, 0 distribution modes
Description
This map is still in the test fase.

current errors in the map are:
1. 4 terretories are missing
2. The names of the bonusses have to be added
3. The names of the terretories have to be added
4. Are the connection correct?
5. Income balance

Wanna help me with making the map better and more balanced? in the case you can send me a warlight message.
________________________________________________________
They were five tribes.

-Greenshore
-Winterfay
-Summermill
-Ostham
-Dracview

They fought over the iland of Helinde.

Afhter 4 years of fighting the iland Helinde was split in to 7 tribes. 2 out of these tribes were threatend with destruction.

-Greenshore (green)
-Winterfay (light blue)
-Summermill (blue)
-Ostham (orange)
-Dracview (red)
-Morlyn (pink)
-Westergold (yelow)

Ostham and Morlyn were on the edge of coleps, closly followed by Westergold.
Can you build a civilization that will stand the test of time?!