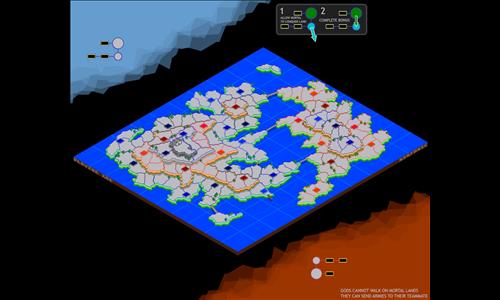 Playing God
Created by

NinjaNic

(
all
)
Went public on 7/24/2017
Number of ratings: 17
Average rating: 2.058 / 5
139 territories, 309 bonuses, 1 distribution mode
Description
Play in teams of 2 and support your fellow mortal! Gods cannot walk on the mortal lands of the Earth.

There is no coincidence that this map's ID is 66666.

Thank you for testing:
CJ
Ameter
Dr. Stupid
Reviews
Review by
FunnyEric
on 8/8/2017.
I like the idea of this map. But to be honest, from the description, it was absolutely not clear for me that there are these lots of -1000 bonuses. i wondered why i couldn't deploy anything and then realized. these negatives should be made more obvious.
Response by map creator

NinjaNic

on 8/14/2017
Map works in theory, but yeah you're right, in-game it's a lot more complicated. Especially with AI's that don't know how to do anything.
1 out of 2 people found this review helpful.
Review by
Sneeper
on 6/22/2018.
win after 3 moves... what is the challange?
0 out of 0 people found this review helpful.