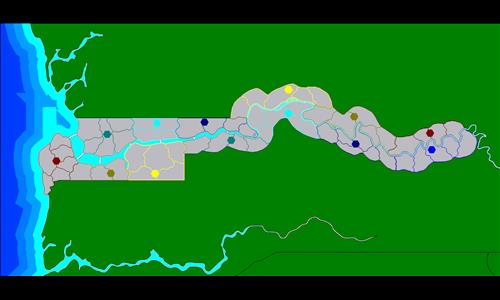 The Gambia
Created by

Clint Eastwood
(
all
)
Went public on 5/9/2017
Number of ratings: 29
Average rating: 3.4137 / 5
63 territories, 13 bonuses, 0 distribution modes
Description
Thanks to Aura Guardian and AWESOMEGUY for testing.

Unrelated, but I've updated a couple of my previous maps (Franz Josef Land and Svalbard), so if you liked those, be sure to check them out!

Map #22
Reviews
Review by
Nathan

on 5/9/2017.
Fairly linear, but that's geography and not the mapmaker's fault. Great map!
Response by map creator

Clint Eastwood
on 5/9/2017
I tried changing the bonus values to make it more challenging to play since it's so long and thin, but nothing seemed to work. Thanks again.
2 out of 3 people found this review helpful.
Review by
Daryle
on 5/14/2017.
Cool game I really like the river crossings maybe make the crossing a little darker for those that foolishly play the game without their glasses on
1 out of 1 person found this review helpful.