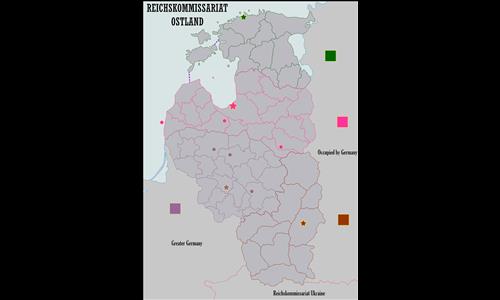 Reichskommissariat Ostland
Unlocks at level 2 or with the
Mega Maps Pack
#Real World
Created by
Ettemof
(
all
)
Went public on 3/18/2017
Number of ratings: 21
Average rating: 3.3809 / 5
64 territories, 14 bonuses, 3 distribution modes
Description
Germany established the Reichskommissariat Ostland (RKO) in 1941 as the civilian occupation regime in the Baltic states (Estonia, Latvia, and Lithuania), the northeastern part of Poland and the west part of the Belarusian SSR during World War II. It was also known initially as Reichskommissariat Baltenland ("Baltic Land").
Reviews
Review by
Daryle
on 3/20/2017.
Good map the bonuses are a little off sided but workable

1 out of 1 person found this review helpful.
Review by
General Stevo
on 9/4/2021.
Good Level. Unique bonuses gives it a different feel. Even though I grabbed three bonus cities on my second turn, it was still was a challenge to complete.
0 out of 0 people found this review helpful.