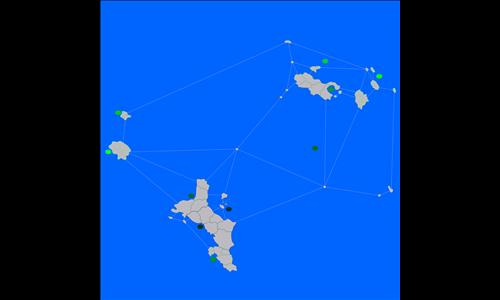 Seychelles
Created by

Clint Eastwood
(
all
)
Went public on 2/28/2017
Number of ratings: 24
Average rating: 3.1666 / 5
53 territories, 10 bonuses, 0 distribution modes
Description
Bonus values are however many outside territories the bonus has, -1. Though some may think it unbalanced, I think it makes for a good strategic map--rather than focus on expanding, you must focus on defending. It's not at all easy to win.

Note: This map was made with FFAs in mind. In 1v1 situations, it can become quickly unbalanced. 4+ players recommended.

Also, apologies in advance for the huge file size for such a small map; I didn't want to have to make the islands five times bigger than they are.

Version 1.1: Fixed visual problem described by Nathan.

Map #11
Reviews
Review by
Daryle
on 3/13/2017.
Nice map the Bonuses are a little off sided but fun play.
2 out of 2 people found this review helpful.
Review by
Nathan

on 3/2/2017.
Challenging map. I give it only 4 stars because of the visibility issue. I get why the mapmaker made it the size he/she did - that's not the problem. Rather, the 7 (at least) layers of outlines around the land are bright enough to make the territories blurry when they are of such small size. I would recommend darkening the outlines and/or reducing their number and/or increasing the stroke thickness on the territories themselves.

Other than that, this is a fine and challenging map.
Response by map creator

Clint Eastwood
on 3/9/2017
Thanks for the feedback! I'll try getting around to doing that.
Edit: done.
1 out of 1 person found this review helpful.
Review by
Hitler
on 4/3/2020.
no sale polonia

0 out of 0 people found this review helpful.