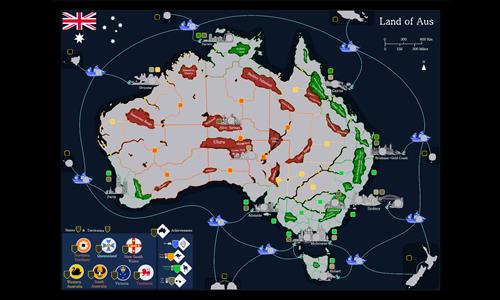 Land of Aus
Unlocks at level 3 or with the
Mega Maps Pack
#Real World
Created by
muligan
(
all
)
Went public on 1/21/2017
Number of ratings: 137
Average rating: 3.4014 / 5
111 territories, 64 bonuses, 14 distribution modes
Description
Australia is a fun island-continent nation filled with interesting geographic landscapes and liveable cities...and here's a map tries its best to present these features.

Temperate . Tropical . Cities and Surrounding Islands are the most valuable lands. Their territory amount = Army Income.

Grasslands and Deserts are mostly wildness and dangerous creatures. So You'll have to control more territory to get the same army Income.

Seas (Boats) worth nothing but provides rapid movements between Coastal Cities and Surrounding Islands.