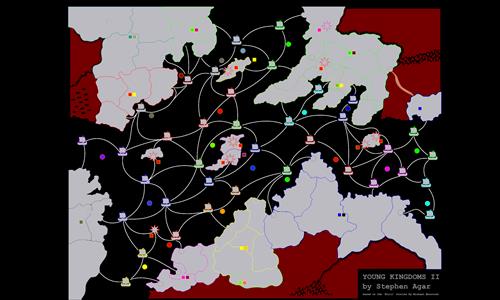 Young Kingdoms
Unlocks at level 10 or with the
Mega Maps Pack
#Fictional
Created by
Bruno Barbaquemada
(
all
)
Went public on 1/21/2017
Number of ratings: 26
Average rating: 3.5 / 5
122 territories, 51 bonuses, 0 distribution modes
Description
A map based on the 'Elric' stories by Michael Moorcock, drawn by Stephen Agar and first published in Spring Offensive No.4 (August 1992). Here it is re-drawn with new features to make it playable in Warlight.
Reviews
Review by
RobGodkin
on 1/21/2017.
never heard of the elric series before so i dont know what is going on in this map and what meaning these places have.

-it would help if you included a small storyline box to give a background to role-plays.
-a few icons to represent different levels of settlements (castle, city, village) would help
-some topography to locate where the mountains and deserts are, where the farms and rivers are, would help too

compare the different versions of lotr middle earth maps to understand what makes a better story-map.
1 out of 1 person found this review helpful.
Review by
Nathan

on 4/25/2017.
Nice little map. I like the varied bonuses for cities and territories.

I would prefer to see some kind of bonus for holding the Isle of Purple Towns as I don't like zero-value territories unless they exist for some specific reason.
1 out of 1 person found this review helpful.
Review by
Mjoth
on 10/17/2022.
Really nice map, attractive and well connected. The game was fun. A+!
0 out of 0 people found this review helpful.