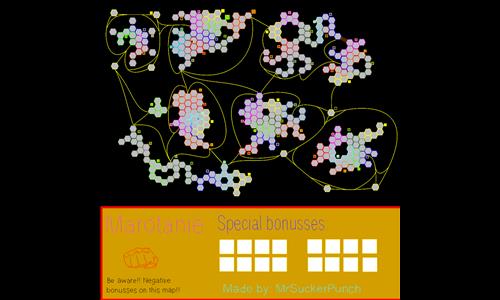 Marotanië
Created by
MrSuckerPunch
(
all
)
Went public on 11/14/2011
Number of ratings: 58
Average rating: 3.3965 / 5
349 territories, 85 bonuses, 2 distribution modes
Description
This map is completely made using my imagination.

BE AWARE of the negative bonusses on this map.

Made by: MrSuckerPunch
Reviews
Review by
Andalorium
on 3/27/2012.
i like the variety, but i wont give it a 5 until the bonuses are a little better thought out
4 out of 4 people found this review helpful.
Review by
Nathan

on 4/21/2015.
I don't have a problem with the bonus allocation, but there are visual and structural improvements to be made.

First, the split up the middle of Sohia is difficult to see. This should be made more obvious.

Next, Margon and Suckania are too isolated, with only one access point to each.

Finally, Granadis and Marataki need access points to their southeastern coasts.

There should be a sea connection to Sohia's Eastern Desert.
1 out of 1 person found this review helpful.