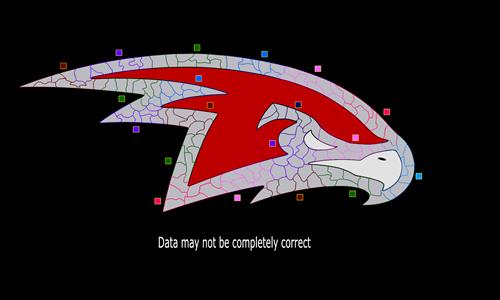 HAWKS Map
Unlocks at level 52 or with the
Mega Maps Pack
#Novelty
Created by
buddyboyb1
(
all
)
Went public on 2/13/2017
Number of ratings: 30
Average rating: 3.3333 / 5
139 territories, 19 bonuses, 0 distribution modes
Description
This is the map of the HAWKS. It follows the HAWKS Logo, created by Scotty.
A very special thanks to (ง︡'-'︠)ง let's fight!! for helping (95%) redraw the map because my drawing isn't that good. He also motivated me to keep going, otherwise this wouldn't be here for another 4-5 years XD.
Also thanks to bobbob17 for his patience : )

Not a very good strategic map because of:
1. big bonuses
2. many territories with only 2 connections

A fun map to play on. Very competitive especially for HAWKS.

That pretty much sums it up.
Reviews
Review by
Nathan

on 2/13/2017.
This map looks super cool and its territory names are entertaining (and educational). That being said, treat it as a novelty map. Playing on it is an experience in extended linearity and, as such, takes on the long, slogging feeling of inevitability long before the game actually nears an end.
5 out of 5 people found this review helpful.
Review by
Andalorium
on 2/16/2017.
I like Hawks, Seahawks are my favorite, Blue Tailed ones are nice but the ones i like sometimes are green.
1 out of 1 person found this review helpful.