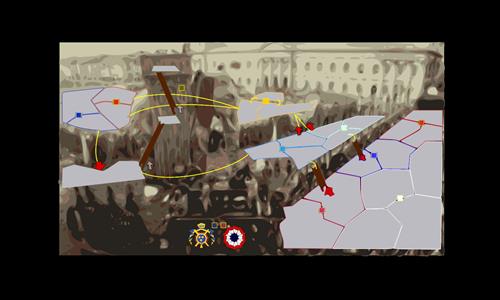 Les Miserables July Revolution 1830
Unlocks at level 12 or with the
Mega Maps Pack
#Novelty
Created by
RobGodkin
(
all
)
Went public on 1/10/2017
Number of ratings: 21
Average rating: 2.9047 / 5
27 territories, 12 bonuses, 1 distribution mode
Description
Great for 3 player teams and ffa's. Have fun battling on the streets of 19th century Paris. The Seine River runs along the Louvre Palace!

[ Tuesday, 27 July 1830: Day One ]
"Throughout the day, Paris grew quiet as the milling crowds grew larger...."
[ Wednesday, 28 July 1830: Day Two ]
"Fighting in Paris continued throughout the night..."

--------------------------------------------------------------------------------
+Les Misérables employs Hugo's style of imaginative realism and is set in an artificially created human hell that emphasizes the three major predicaments of the nineteenth century. Each of the three major characters in the novel symbolizes one of these predicaments: Jean Valjean represents the degradation of man in the proletariat, Fantine represents the subjection of women through hunger, and Cosette represents the atrophy of the child by darkness.+
Reviews
Review by
Andalorium
on 1/11/2017.
So my question is, have you read the unabridged book, or seen the play, or seen one of the movies? I recommend the one that has the music in it just like the play. Either way nice map.
Response by map creator
RobGodkin
on 1/23/2017
I almost began to read the book a while ago for an english project, but i never got to opening the front page. I've never seen the plays or the movies either.
This map is mostly just based on a music video that included a clip from one of the movies so I'm not sure how accurate the territory names are.
3 out of 3 people found this review helpful.