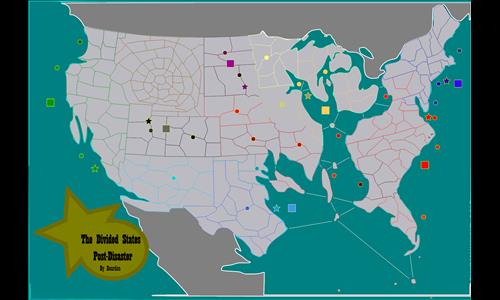 Divided States Post-Disaster
Unlocks at level 15 or with the
Mega Maps Pack
Created by

Beardon
(
all
)
Went public on 12/8/2016
Number of ratings: 22
Average rating: 3.5 / 5
217 territories, 42 bonuses, 1 distribution mode
Description
The Mississippi has flooded, becoming a sea. Yellowstone has erupted, leaving a vast wasteland in the area. An earthquake on th West coast has submerged almost all of California, and much of Washington and Oregon.

Politically, the USA isn't doing well either. The new West Coast, Eastern Washington and Oregon, and parts of Idaho, have created Cascadia. Billionaires in Las Vegas have funded their own millitary and seceded from the Union. Texas secedes as well, and brings unwilling states with them. The Mormons install a theocracy in Utah, and become independent. The Great Lake Republic in the North secedes, and so does the New York. Dakota becomes a Native American government.

Can you unite the States under one flag once more, even in this time of disaster?
Reviews
Review by
Nathan

on 12/9/2016.
Cool concept. Unfortunately, the northeast is too isolated and too powerful. I recommend decreasing the NY bonus. More importantly, however, more connections need to be made. I recommend connecting East Maryland to Richmond. A connection through Canada between North Michigan and perhaps North Maine would also be an improvement.
6 out of 7 people found this review helpful.
Review by
warhawk
on 1/29/2020.
Better then avg Warzone map. Made Map of the Week Jan. 2020. I would argue that Fla would still exist. but the map play is better then avg.
0 out of 0 people found this review helpful.
Review by
Andalorium
on 12/28/2016.
Love the idea, and creative license, because after having heard all about the fault line that runs through Utah, and New Mexico I was expecting them to be split up and not whole, but that did not ruin the map, just wondering.
0 out of 3 people found this review helpful.