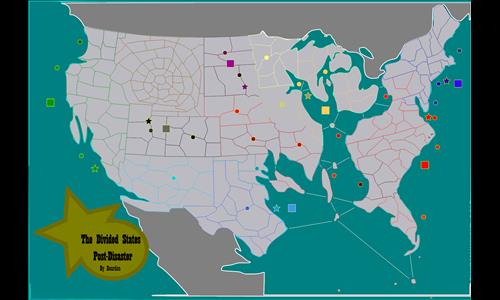 Divided States Post-Disaster
Unlocks at level 15 or with the
Mega Maps Pack
#Real World
Created by

Beardon
(
all
)
Went public on 12/8/2016
Number of ratings: 27
Average rating: 3.6296 / 5
217 territories, 42 bonuses, 1 distribution mode
Description
The Mississippi has flooded, becoming a sea. Yellowstone has erupted, leaving a vast wasteland in the area. An earthquake on th West coast has submerged almost all of California, and much of Washington and Oregon.

Politically, the USA isn't doing well either. The new West Coast, Eastern Washington and Oregon, and parts of Idaho, have created Cascadia. Billionaires in Las Vegas have funded their own millitary and seceded from the Union. Texas secedes as well, and brings unwilling states with them. The Mormons install a theocracy in Utah, and become independent. The Great Lake Republic in the North secedes, and so does the New York. Dakota becomes a Native American government.

Can you unite the States under one flag once more, even in this time of disaster?