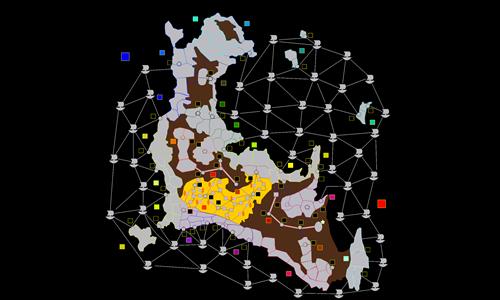 Mehikonien & Aergard
Unlocks at level 23 or with the
Mega Maps Pack
Created by
sensenmennel
(
all
)
Went public on 10/6/2016
Number of ratings: 22
Average rating: 3.2727 / 5
250 territories, 99 bonuses, 1 distribution mode
Description
This is a fantasy map, of a continent, some friends and me created for a Pen and Paper game. Since we are german, the territroy names are as well.

There are Cities with high Values, a desert with negative Bonuses on Shortcuts, and a relatively free network of ships, connecting to some islands.
Reviews
Review by
Andalorium
on 11/19/2016.
Well made, and designed map, even with area and city bonuses it really worked for this map, though I believe a connection was missed from one of the ships/ sciffs to the Lorona port.
1 out of 1 person found this review helpful.
Review by
Purgatory
on 8/2/2019.
impossible
0 out of 0 people found this review helpful.